Introduction to AirOShoot and offer of sponsorship opportunities
Dear friend of shooting,
AirOShoot is a new concept bringing together organisers of 10m airgun competitions who will offer the competitor a new and exciting focus to their competitive shooting year. The first three qualifying competitions have happened and there is just one remaining for athletes to win a place at the Super Final.
Our vision is to bring together a series of European based high-quality airgun competitions all sharing the same high standards of delivery, whilst focussing on creating an enjoyable and competitive environment for the athlete.
Athletes win AirOShoot points at each of the competitions and at the end of all the competitions the top 24 athletes in each discipline and age category will be invited to a Super Final weekend. The Super Final will consist of qualifying matches on the Saturday to determine who qualifies for the finals on the Sunday. 192 athletes will compete at the Super Final weekend, of which the first one was held from 13 – 15 September 2019 in Herent, Belgium.
AirOShoot is currently a partnership between five European 10m airgun associations. Over time we aim to add additional partners who have a common interest. The competitions, AirOShoot qualification and Super Final, are open to non-European athletes.
AirOShoot is entirely organised on a voluntary basis and is not for profit. We are seeking the support of others to enable us to realise our vision. That is why we would like to request you to support us with a financial or material contribution.
Direct financial contributions are welcome to enable AirOShoot to offer the Super Final at little or no cost to the athlete. This would cover, for example, expenses for sports hall rental, athlete transportation from hotels and officials' expenses.
We also welcome material contributions to enable AirOShoot to award quality prizes to the athletes.
We have three tiers of sponsorship Gold, Silver and Bronze. Each seeking a different monetary contribution, for which we offer different levels of offer. This is detailed at the end of this document.
We will regularly update our website www.airoshoot.eu with progress.
If this email has not been sent to the right person in your organisation, please accept our apologies and we ask that you take the time to forward it to the right person.
For any further information, please contact us. We are looking forward to discussing options and working with our future sponsors.
Many thanks in advance.
Best regards,
Secretary
(Signed on behalf of AirOShoot)
Competitors from 51 countries have competed in 4 years

Portugal

Armenia

Egypt

India

Liechtenstein

Romania

Aruba

El Salvador

Ireland

Lithuania

Scotland

Belarus

England

Isle of Man

Luxembourg

South Africa

Belgium

Estonia

Israel

Malta

Spain

Brazil

France

Italy

Mexico

Sweden

Bulgaria

Germany

Japan

Monaco

Switzerland

Canada

Gibraltar

Jersey

Netherlands

Turkey

Curacao

Guernsey

Korea

Northern Ireland

Ukraine

Czech Republic

Hong Kong, China

Kyrgyzstan

Norway

USA

Denmark

Iceland

Latvia

Poland

Wales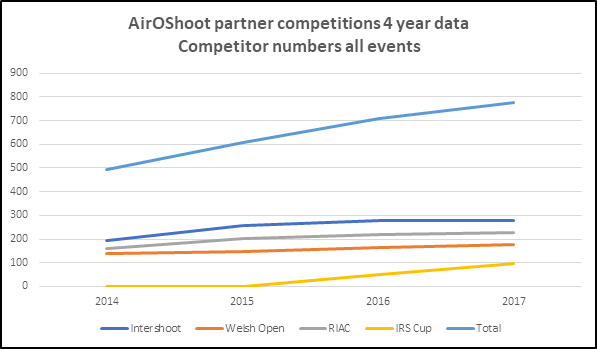 Sponsor Scheme Summary of Benefits
Super Final 2019
| | | | | | |
| --- | --- | --- | --- | --- | --- |
|   |   | GOLD | SILVER | BRONZE |   |
|   | Sponsor Investment | €3000 | €1000 | €500 |   |
|   | Maximum Number of sponsors | 2 | 5 | 10 |   |
|   | Present medals at Super Final (SF) | ü | û | û |   |
|   | Address spectators and athletes at SF | ü | û | û |   |
|   | Extensive use of your logo in all correspondence from AirOShoot | ü | û | û |   |
|   | Advertising banners at target, firing point and medal podium positions. | ü | ü | û |   |
|   | Trade stand space at SF, double size for Gold sponsors | ü | ü | û |   |
|   | Logo on Athlete Bib | ü | ü | û |   |
|   | Advertising space on the AirOShoot website | ü | ü | ü |   |
|   | Included in Sponsors support article on the AirOShoot website | ü | ü | ü |   |
|   | Hash tagged in social media output | ü | ü | ü |   |
|   |   |   |   |   |   |